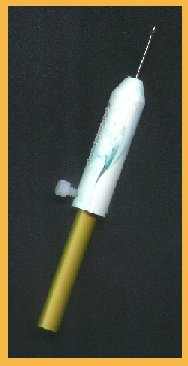 $12.00 ea.
Gold Needle Punch Tool

What is it? The gold needle punch is a hollow needle tool which is used in producing looped
stitches using 6 strands of embroidery floss.
What other tools will I need? You will need a sturdy plastic embroidery hoop with a lip. Experiment
with your hoop size. A smaller hoop (4-5") keeps your fabric taut longer, thus making your punching
easier.While a larger hoop covers more design space, but you would have to frequently adjust the fabric
to keep it taut. You will also need a threader which is included with your needle punch tool.
What type of fabrics should I use? Light weight duck cloth, upholstery type fabric without any rubber
content, or a heavier weight linen-like tight weave fabric. Do not use muslin or osnaburg fabrics. These fabrics
are too thin and will not hold your punched loops. Try experimenting with a piece of selected fabric first before
you start your projects.
Needle punching is an old but revived art, and we are loving it! The tool is fun and easy to learn. Practice
a bit and then you'll see there's no stoppin' after that! We have small and easy projects for starters, and larger
projects for the semi-starters and beyond. We have made all our needle punch designs easy to follow, and
quick to finish. So pick up a needle punch and start punching away! What's great about this punching art, is
that you could do this while visiting with friends, watching your favorite movie, on travel, etc.!You'd
be amazed what you can accomplish utilizing that kind of time! Enjoy! We'd love to hear from you!